Our washdown equipment, manufactured and assembled in Suffern, NY is an integral part of ARCHON Industries.  The ARCHON steam and water mixing unit, model WD2010, is one of our signature products.  While maintaining its simplistic design and ease of use, it offers its users uncompromised reliability and safety.  With few moving parts and a wide range of operating capabilities, this unit has proven to be unrivaled as the leader in the industry.  Capable of handling 200 psig of steam, no other unit in the market even comes close.
Within the following pages, you will find all the resources available to you for washdown cleaning, including; Steam Mixing Units, Hot & Cold Water Mixing Units, Thermostatically Controlled Mixing Units, Hoses, Reels, Spray Guns and much more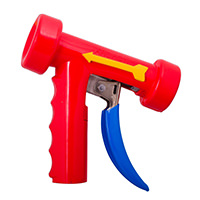 ARCHON Industries RT series spray nozzles are heavy duty, impact resistant, and available with stainless steel or bronze bodies.  The RT12 and RTB16 spray nozzles provide a variable liquid spray from a 50° hollow cone to a jet stream spray pattern by...
What is washdown?
In the food and beverage industry, washdown refers to the process of cleaning manufacturing and processing equipment, and sanitary areas using a high-pressure spray of hot water and/or chemicals.  This is an essential process because it kills bacteria and other contaminants to sanitize the surfaces that food products may come in contact with.
Where is washdown equipment used?
ARCHON washdown stations are widely used in dairy, pharmaceutical, food processing, chemical and industrial plants.  Wherever efficient, economical and low-maintenance means of hot-water clean-up is needed, ARCHON washdown stations are used.
What is a steam mixing washdown station?
Our WD2010 steam mixing stations carefully and thoroughly mix steam and cold water to provide "instant" hot water on demand.  Using the proportional flow water and steam control valves, the operator can adjust the washdown station to deliver the desired hot water temperature as indicated on the dial thermometer located in the mixed water discharge.  By depressing the ergonomically designed fail-safe trigger of the hand-held spray nozzle or the optional spray lance, the operator can direct a steady flow of hot water from a fine spray to a solid jet.