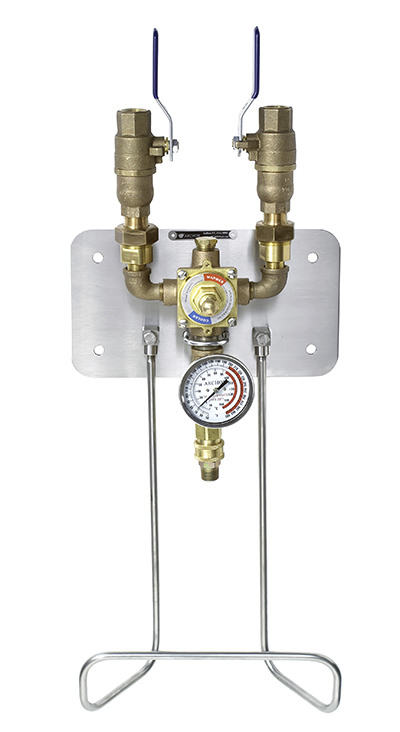 HCMXTC-BR
$1,200.00
ARCHON model HCMXTC-BR is a thermostatically controlled mixing valve assembly that delivers constant temperature water. It automatically compensates for fluctuations in either incoming hot and cold water temperature and/or pressure.
A liquid filled thermostat and a stainless steel control valve guard against unexpected hot or cold water spikes and proportion the water flow to maintain a constant outlet temperature +/-3°F over the range of 80 to 160°F for up to 10 gallons per minute at a differential pressure of 40 psi, with a maximum hot water supply of 180°F.
Mixed water temperature is adjusted by turning a set-screw and is indicated on a dial thermometer. The housing is bronze and wetted parts are bronze, stainless steel, PTFE and buna rubber.
The assembly includes an inlet shut-off valve and a check valve with ¾" NPT union connection on both the hot and cold water legs.
The HCMXTC-BR is available with the following optional components:
* SS wall mounting plate
* SS hose rack
* Hand held spray nozzle
* Automatic shut-off spray lance
* A variety of hot water rated hoses

Features

* Accurate control of temperature from 80°F to 160°F
* Maintains temperature to +/-3°F
* Maximum water temperature of 160°F
* Adjustable temperature limit stop for safety
* Self adjusts for temperature or pressure variations
* Maximum working pressure to 125 psi
* Color coded temperature dial
* Bronze body with replaceable corrosion-resistant components
* The piston and liner are stainless steel
* Bronze and Stainless Steel Construction
* 3/4" high-flow unit 10-12 gpm standard
* 1 year warranty

Thermostat

Automatically responds to temperature and pressure variations in hot and cold water lines.

The stainless steel piston and liner precisely proportion water flow to maintain a constant outlet temperature and to guard againts unexpected hot or cold water spikes.