ARCHON Industries offers a complete line of sight glasses (also called sight ports or sight windows) for all vessel, piping, and tank wall applications.  Our sight glasses are available in circular, oval, rectangular, DIN and sanitary tri-clamp styles.  They are engineered for pressure, pressureless and ASME code applications.  ARCHON sight glasses offer our customers clear and constant visual observation of the conditions inside vessels, storage tanks and piping, while ensuring a high level of safety for operators.  ARCHON sight glass installation configuration styles include weld-on, bolt-on, screw-on and tri-clamp connections.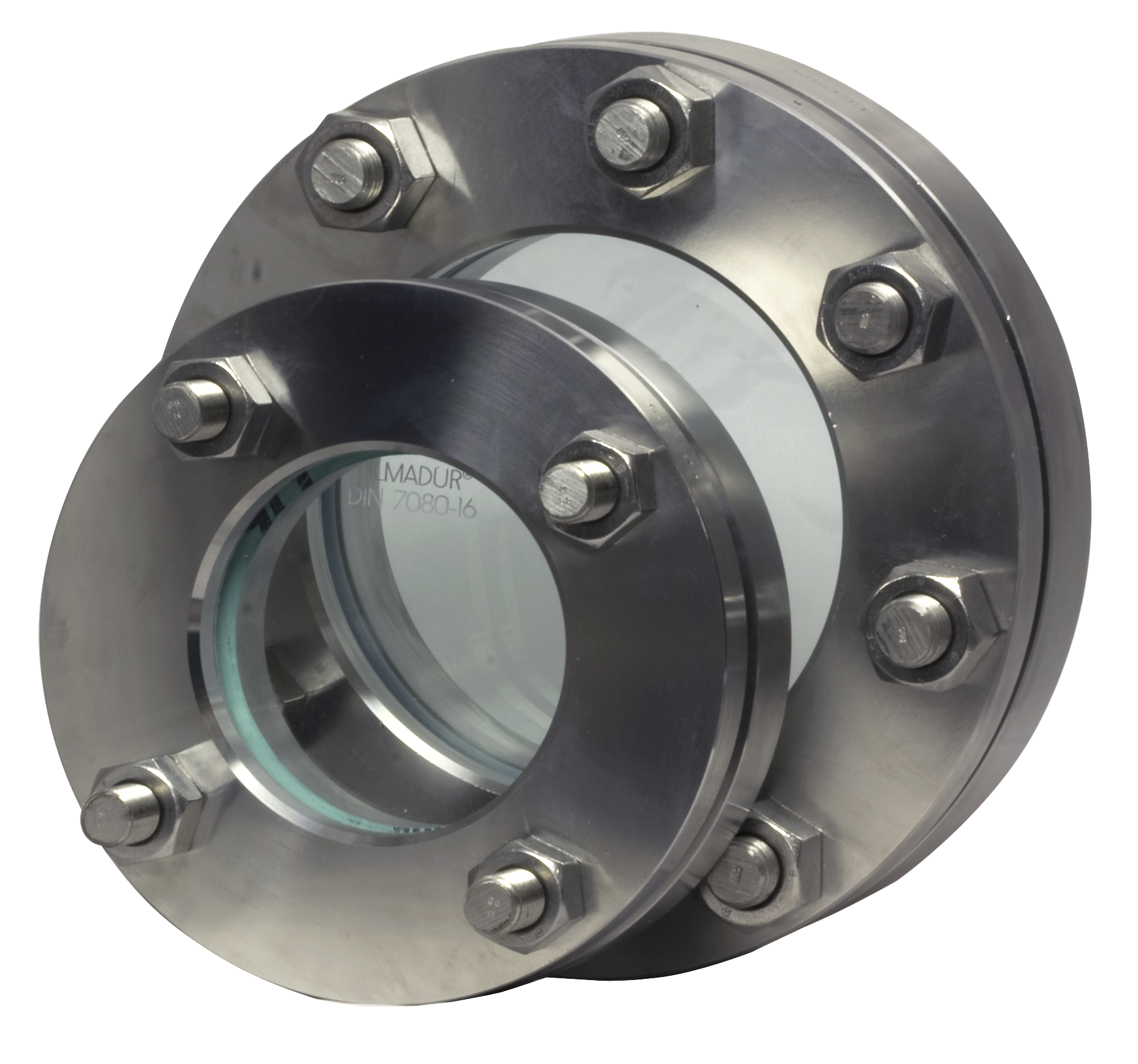 ARCHON model KB sight glasses are designed for welding onto ASME Code and non-code pressure vessels, piping or tank walls.  Model KBWN weld-neck sight glasses are designed for process observation when welded into a process vessel or to the end of a pipe.
What should I consider when installing a sight glass?
1. Pressure: All sight glass components such as glass and retainers should be suitable for your operating pressure.  ARCHON Industries can help determine whether a specific type of sight glass is suitable for your application based on the operating pressure.
2. Temperature: Operating temperature will determine glass type and gasket material.  Tempered borosilicate glass will be able to handle most applications with temperatures up to 550°F.  Quartz glass will be used for temperature applications over 550°F, and is capable of handling temperatures up to 1652°F.
3. Product Compatibility: Is the process media corrosive?  Will there be extreme temperature fluctuation?  ARCHON can help determine which materials will be suitable for your process media.
What are some accessory options available?
1. Wipers: ARCHON W wipers may be used on sight glasses to effectively clean the inside surface of the lens.  Wipers are used to prevent crystallization and to keep the lens free of dust, dirt or powder buildup.  W wipers are mounted through a hole in the center of the sight glass lens.
2. Lighting: Used to illuminate the interior of a vessel or tank when mounted on one of our sight glasses.  ARCHON offers a variety of lighting options such as our LUM17 LED units and EX99-LED explosion proof units for hazardous areas.
3. Spray Rings/Nozzles: ARCHON offers custom made spray rings and spray nozzle options to help clean the glass lens.
Are material certificates included with Archon sight glasses?
ARCHON provides material certs for weld-on type sight glasses and can provide a certificate of conformance for other types upon request.