ARCHON Industries offers a complete line of manways for all vessel applications found in the food, beer, wine, dairy, general processing and pharmaceutical industries.  Our manways are available in circular, oval and rectangular styles, for pressure, pressureless, and ASME code applications.  Manways can be equipped with various component options such as sight glasses, process lighting, safety grates, spring lift assist, and locking pins.  Available materials are 304L and 316L stainless steel, and special alloys such as Hastelloy® C276, Duplex stainless steel, AL6XN® and others.  Gasket material options include EPDM, silicone, Viton®, Teflon® encapsulated Viton® and Teflon® encapsulated silicone.  Other materials are available upon request.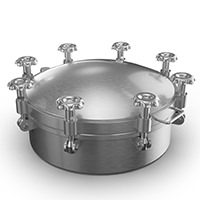 ARCHON Industries is proud to be the exclusive distributor of Zimmerlin products in the Americas.  Zimmerlin GmbH is one of the world's leading manufacturers of stainless steel manways.  Products are used in the pharmaceutical sector as well as a full...
What are manways?
Manways allow customers access to the interior of a pressure vessel or storage tank for cleaning and maintenance purposes. Manways are also referred to access ports, handholes, and hatches.
What is an ASME manway?
ASME code manways are used to provide access to ASME code pressure vessels. They are pressure rated and built in accordance to ASME BPVC Section VIII. These manways are U stamped and provided with a U-2A Partial Data report.
What manway sizes are available?
Sizes range from 4" diameter handhole access ports, up to 40" diameter manways, and everything in between.