ARCHON Industries is proud to be the exclusive distributor of Zimmerlin products in the Americas.  Zimmerlin GmbH is one of the world's leading manufacturers of stainless steel manways.  Products are used in the pharmaceutical sector as well as a full line of products to suit the chemical, food, wine, brewery, and dairy industries.  Whether you require standard or custom-made items,  we provide the highest quality Zimmerlin manways.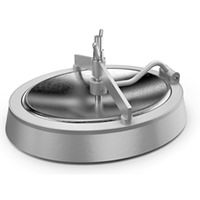 We offer several style and size options in our oval manway product list.
Which certifications are available for Zimmerlin Manways?
All Zimmerlin manways are supplied with MTR certificates. ASME certifications are also available for pressure applications.
Can Zimmerlin manways be supplied with fittings welded to them?
Zimmerlin manway can be fitted with various types of weld nozzles such as aseptic ferrules, tri-clamp ferrules, and standard ANSI type flanges.  Weld-in style sight glasses like our "KB" series, tri-clamp sight glasses like our "SSTC" series, and DIN "SS" type screw-on sight glasses can also be fitted to Zimmerlin manway covers.
What is the standard finish on Zimmerlin manways and can customers specify a special finish?
Standard finishes vary for each type of Zimmerlin manway. For example, pressureless manways up to 24" diameter have a brushed finish with a 2B / pickled finish on the neck of the manway. Pressure manways have a standard surface finish of 2B / pickled on the ID & OD of the manway. Other surface finishes are available upon request.
Can Zimmerlin manways be supplied with an assist mechanism for easy lifting of cover?
A spring assist device facilitates opening and closing of the manway cover by reducing lifting force, helping to prevent personal and cover damage while ensuring smooth functionality.