ARCHON spray balls are available in 360°, 270°, 180° upward, and 180° downward spray patterns.   Spray balls are available with slip-on, butt-weld, and threaded connections.  The standard material is 316 stainless steel, with other material options are available upon request; Hastelloy® C-22®, PTFE, etc.  Special configurations are also available. Explore the static and rotating spray balls below and shop online.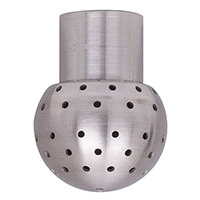 ARCHON offers sprayballs in many different spray pattern and connection styles including butt-weld, slip-on and threaded.
What are spray balls?
Spray balls are used to clean the inside of tanks and vessels by spraying the interior surfaces of the vessel with hot water and/or cleaning solutions at various rates in industries such as pharmaceutical, food, beer & wine, and dairy.
What are the differences between Static and Rotating spray balls?
Static spray balls typically rely on a high-volume, low-pressure cascading cleaning action wherein much of the mechanical energy comes from the sprayed-on solution running down the sides and surfaces of the tank being cleaned.
Rotating spray balls have low-volume, high-pressure spray with the spray nozzle spinning around to direct a jet of spray to all interior surfaces of the tank. Dynamic spray balls have more mechanical energy applied over a smaller surface area during cleaning.
What factors are important when choosing a spray ball?
Spray Hole Pattern
Ball Diameter
Connection Type
Flow in GPM
Tank Diameter
Material of Construction