ARCHON Industries has fast become a leader in supplying brewery equipment. Our high-quality products and engineered solutions for brewery manufacturers have earned ARCHON a reputation for maintaining quick and professional service standards.  We carry tank lighting, sight glasses, manways, valves, spray balls, brewery fittings, and brewery hoses. We're also a proud distributor of quality global brands including Zimmerlin, Kieselmann, and HAKE.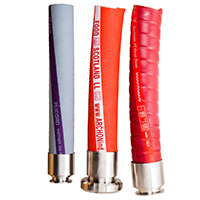 ARCHON offers brewhose in 1-3" sizes.  Lengths are typically sold in 25' increments, but we also offer custom sizes if required.  Purchase bare hose without fittings, or have us safely crimp on end fittings for immediate use.  We offer triclamp, DIN and...
Which brand of brewery hose does ARCHON stock?
ARCHON carries a large variety of brew hose.  In-house crimping makes it easy for us to provide any style fitting you need.  Vintner™ and Scotland are just some of our most popular brew hoses.  Sizes available from 1″-3″ in any length with many options for crimped end fittings.
What types of valves does ARCHON offer for the brewery industry?
ARCHON carries a wide range of valves for the brewery industry.  Butterfly valves, sampling valves and vacuum & pressure relief valves are available in a variety of sizes and styles.