DIN is a collective term for a group of European hose fittings from the German Industry Standard (Deutsches Institut für Normung).  ARCHON Industries offers a wide variety of stainless steel European style DIN fittings for the brewery, wine, food, beverage, pharmaceutical, and chemical industries. Our DIN fittings are available in multiple metric and imperial sizes including complete unions, male threaded ferrules, female ferrules, and blind nut options.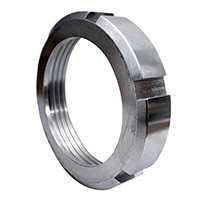 Dimension TableItem No.DINd5(mm x in)d6(mm)d8(mm)k(mm)m(mm) 2003.01010Rd 28 x 1/819381815 2003.01515Rd 34 x 1/825441815 2003.02020Rd 44 x 1/631542017 2003.02525 [1"]Rd 52 x 1/636632118 2003.03232 [1.25"]Rd 58 x 1/642702118 2003.04040 [1.5"]Rd 65 x...
What is DIN?
DIN stands for "Deutsches Institut für Normung", which means "German institute for Standardization". DIN 11851 fittings are most commonly used in food and chemical industries.
What is a DIN Union?
A DIN union consists of four components: a threaded male weld ferrule, and female liner weld ferrule, a round slotted nut, and a "D" cross-section gasket. Sanitary unions are mainly used in winery, brewery, dairy, beverage, food processing, and pharmaceutical applications.
What are DIN 32676 Fittings?
DIN 32676 fittings are tri-clamp style fittings used in various industries. Although they look similar to standard tri-clamp fittings used in the U.S., DIN 32676 fittings are not an exact match. DIN fittings are manufactured primarily in Europe and use metric dimensions. Some smaller standard tri-clamp fittings can mate with DIN 32676 fittings, but they will not match perfectly.
DIN fittings are measured by the inside diameter of the tube end instead of the outside.