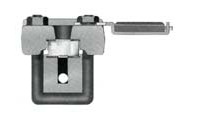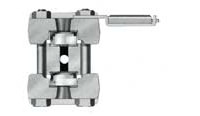 The measuring scale illustrated is made of a zinc-alloy 1/8" thick and 2" wide. The numerals and graduations are raised 1/32", sharp edged, clean cut and accurate to .001 of an inch.
The scale is mounted on a 1/4" thick aluminum backing and furnished with adjustable brackets. The numerals and graduations are easily read and have foot numeral inserts, bright chrome plated for contrast. The scales are normally furnished from 0 up in 1/8" graduations but can also be furnished in reverse with numerals running down from 1 to 11. They are also available in graduations of feet-tenths of a foot and hundreds of a foot.
Gauge Scales are also available in Laminated Plastic, (Black on White or Whiite on Black), Aluminum, Stainless Steel, or Monel. In addition to graduations stated above, scales can be obtained in Metric measurements-Centimeters and Milimeters.
Illustration of Tubular Gauge with Guard Rods and Scales
Scales for Tubular Gauges can be furnished as described above and as described in illustration. They can also be suppllied with Special bracket arrangements for use with Gauges having our model SGP-18 Round Plastic Guards