ARCHON Industries manufactures a large selection of liquid level gauges including armored style flat glass reflex & transparent gauges, large chamber level gauges, tubular glass level gauges, magnetic level gauges, gauge valves/cocks, and custom units.
Armored liquid level gauges are used where direct visual observation of process fluids is required.  The are available in two main types; reflex and transparent.  Reflex gauges use prism glass to provide a definitive indication of the level of the fluid inside the gauge.  The fluid appears black in contrast to the silver surface where there is no fluid present.  Transparent gauges use clear glass on both sides so that both the color and the level of the fluid inside can be easily seen.
Let ARCHON Industries help you choose a suitable liquid level gauge for your application. Explore our wide selection of level gauges below. Shop online or contact us.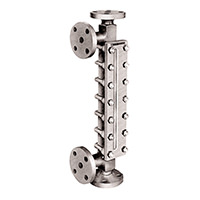 Flanged mounting arrangements are available in many configurations for our Reflex and Transparent gauges.  Click the Assembly Drawings button below to view styles, and optional end and side connections.