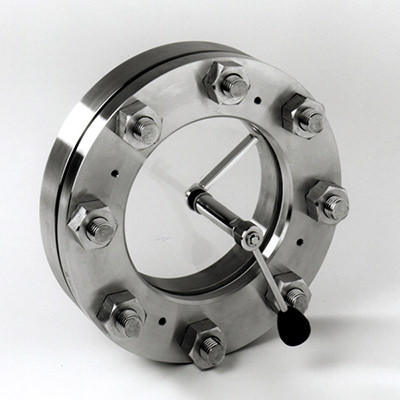 Model W wipers may be used on ARCHON sight glasses to effectively clean the inside surface of the lens. Wipers are used to prevent crystallization and to keep the lens free of dust, dirt or powder buildup. Model W wipers are mounted through a hole in the center of the sight glass lens.
Material
Mechanical parts: 316 SS (contact ARCHON for other options). Blade: PTFE (standard). Silicone (optional) Seals: Viton®.
Operating Conditions
Maximum internal pressure is 2 to 6 barg (29 to 87 psig), depending on glass diameter. Vacuum values are available on request. Maximum temperature is 200°C (392°F) with PTFE blades, and 180°C (356°F) with silicone.
Options and Accessories
W wipers are for use on all KB series, model SS, model SSTC sight glasses, and model AKF sight flow indicators.
They may be used in combination with lighting units, depending on the size and model of the sight glass.