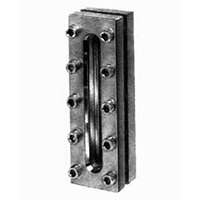 ARCHON Weld Pad Gauges are designed to be welded directly to a tank or other liquid-containing vessels. The body lengths and visibility are the same as standard gauges in single or multiple section type. These gauges consist of a pad which is machined from bar stock 3 1/2" wide, standard forged covers, glass, gaskets & bolts.
The model RLG with Reflex Glass is used where only the reading of the liquid level is desired.
The model TLG with Transparent Glass is used where the installation is made on each side of the vessel for look through visibility.
The Weld Pad is normally furnished flat but can be machined to fit the contour of the vessel.
The Pad material can be Carbon Steel, Stainless Steel or other specified Alloys.
The standard cover is Forged Steel but other Alloys are available.
Click on product Model Number to get a quotation
Model Nº
Sections
Glass Size
Visible L/Inch
mm
Overh. Length/Inch
mm