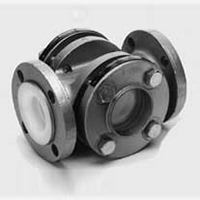 The model AKF-PTFE is a Flanged, 150# Sight Flow Indicator, TEFLON® lined with a cast body.
Teflon resins are essentially chemically inert. The only known chemicals that react with teflon are molten alkali metals, turbulent fluorine and a few fluoro-chemicals and halogenated organic chemicals.
Available devices to enhance visibility include, drip tube and flapper.
Bodies are available only in Iron. Standard units are available only in 150# ratings.
Model AKF-PTFE designates a 150# series
Features