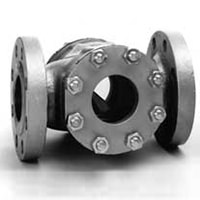 The model AKF-FH is a Flanged, 600# Sight Flow Indicator with a cast body.
This sight flow indicator provides visual observation and monitoring of the process flow stream.
Available devices to enhance visibility include, drip tube, flapper and rotator.
Bodies are available in Bronze, Iron, Steel and Stainless Steel. Special alloys are also available. Standard units are available in 150#, 300# and 600# ANSI ratings.
Model AKF-FH designates a 600# series.