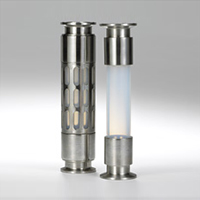 Fluoro thermoplastic Sight Flow Indicators
Equipped at both ends with stainless steel fittings swaged according to the NRS ® Concept (Non Retention System), VIEWLINE® is ideal for food, pharmaceutical, cosmetic and chemical applications.
Made from Fluoro thermoplastic, the most translucent non-glass sight gauge on the market, VIEWLINE® is capable of handling temperatures from -50°C to 180°C.
Downloads
Data Sheet
Download the Files
For downloading the files directly, please click on the links below.