Stainless Steel & Brass Liquid Level Gauges
Our liquid level gauges are designed for use with Corning standard, high pressure, red line or heavy wall brand tubing. Valves are available in bronze or type 316 stainless steel for L (low) and H (high) pressure service. All valves use a stuffing box configuration to seal the glass tube. These units are provided with standard male pipe threaded connections.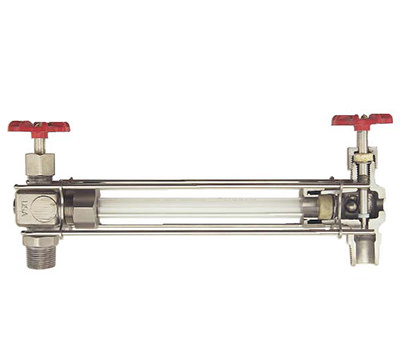 Liquid Level Tank Gauges - Carbon and Stainless Steel
ARCHON liquid level gauges provide you with safe viewing of fluid levels in your tank and a wide option of scales from height scales in feet and inches to tank volume. Available with 5/8" O.D. gauge glass and 1/2" MNPT top and bottom connections. The glass tube is totally enclosed by a metal frame with lexan face.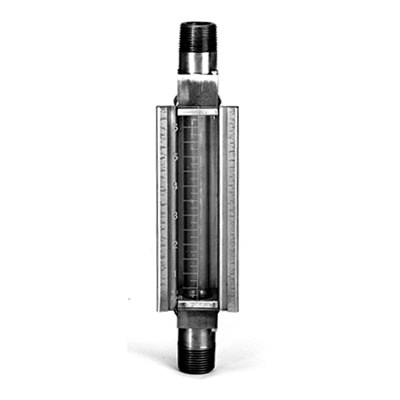 ARCHON model BT-LLG Liquid Level Gauge
The ARCHON model BT-LLG provides a visual means for checking the contents of a bulk tank and a means for checking the injection rate when pumping directly from the tank.
The injection rate is checked by closing a valve between the gauge and tank and observing the level change in the gauge tube for one minute. If higher pump rate is required, the test period can be shortened. The gauge tube is shrouded by a zinc plated carbon steel frame or 304SS frame. The sight tube is Borosilicate glass and a wide option of elastomers are available.
The gauge is fitted with 1/2" MNPT x 3/8" FNPT top and bottom connections. The standard length for this gauge is 4 ft.; however, special lengths are available in either carbon steel or 304SS.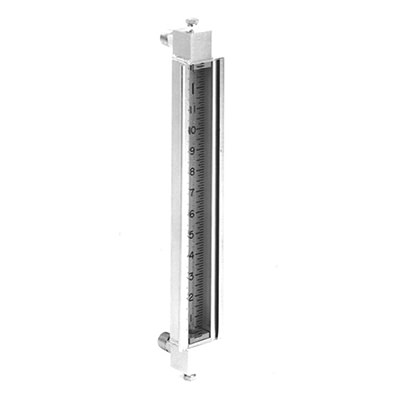 ARCHON model ND-LLG Liquid Level Tank Gauges
The ARCHON model ND-LLG features 90° connections for ease of installation. The gauge is fitted with inline 1/4" FNPT vent and drain connections. Because the vent and drain connections are inline, glass cleaning is easy.
The sight tube on the model ND-LLG is totally protected. Three sides of the gauge are enclosed with a metal frame, while the face of the gauge is protected with a polycarbonate shield.
For low or medium pressure applications, oil or fuel storage tanks, cooling tanks, cooling tower water tanks and boiler feedwater tanks.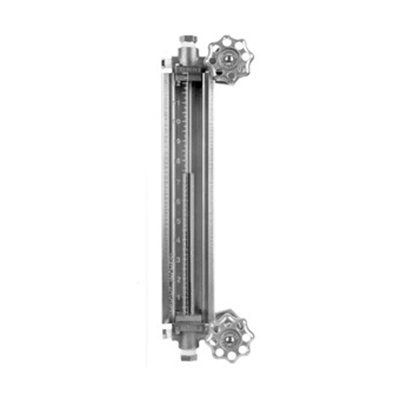 ARCHON model IV-LLG Liquid Level Tank Gauges
The ARCHON model IV-LLG shielded level gauge is designed with offset intergral ball check valves. The model IV-LLG level gauge has in-line vent and drain connections for easy cleaning without removing the gauge from service. The tubular sight glass is totally enclosed and protected by an armored metal frame and a polycarbonate shield. Misalignment unions for vessel connection are available. This model can replace reflex gauges in low pressure applications.