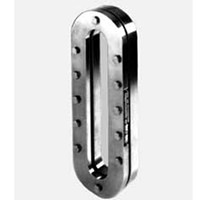 The model RLG-OB is an Obround Sightglass allowing for maximum viewing of vessel or tank contents. These units conform to ASME code requirements and are manufactured using ASME acceptable materials.
The lower weld pad is available with a cylindrical or spherical radius to match the tank or vessel wall.
Standard lens material is Tempered Borosilicate and Tempered Soda Lime. Higher temperature material such as Vycor or Quartz is available.
Standard pressure ratings to 150 psig, higher ratings available to meet your requirements.
Other sizes are available and engineered for your special requirements.
Click on product Model Number to get a quotation
Model Nº
A
B
C
D
T
Max. Pressure